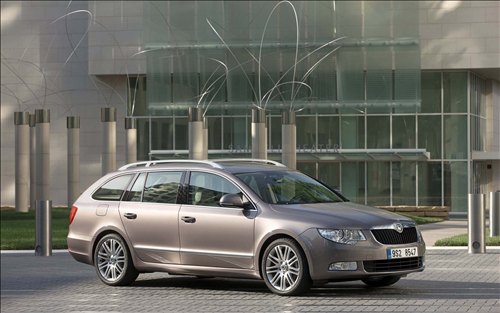 Skoda Auto will present a new model of the Superb Combi at the Frankfurt Motor Show. The new Skoda Superb Combi is 4,838 mm long, 1,817 mm wide and 1,510 mm high. Luggage compartment volume is 633 litres, rising to 1,865 litres with the rear seats folded down. The 2010 Skoda Superb Combi offers an electrically controlled tailgate as an option.

The Skoda Superb Combi comes with a three petrol units (1.4 TSI 125bhp, 1.8 TSI 160bhp and 3.6 FSI V6 360bhp) and two diesel engines (2.0 TDI PD 103 kW and 2.0 TDI CR DPF 125 kW). The latest generation of the Haldex transmission will be featured in the all wheel drive versions of the vehicle.

The Skoda Superb Combi also comes with the KESSY system for starting, unlocking and locking the vehicle without using a conventional key. Optionally, the Skoda Superb Combi will be available with an electrically controlled two-piece panoramic sunroof.